Photo by Mikkel Bo. Birgitte Soojin & Hugo Rasmussen Amagerbro Jazzklub, Copenhagen 2015

Grammy award nominated Korean-born, Norwegian-raised jazz vocalist and producer
.

♥ ♥ ♥ ♥ ♥
By the power of her heartfelt melancholy – the music turns into the pure truth
Denmark′s national daily newspaper Berlingske
Facts
• Birgitte Soojin (Birgitte Soo Jin Wisløff Hauge)
• Norwegian, born January 2, 1983 in South Korea
• Adopted to a Norwegian family (age 1) on the island of Nøtterøy
• Lives in Copenhagen, Denmark (since 2006)
•2 times Danish Music Award, grammy-nominated
(Hi-Lo 2011, Put the blame on me 2015)
The internationally acclaimed, two times grammy-nominated Birgitte makes heartfelt jazz from a selection of blues, soul, scandinavian folk music and the good old fashioned swing jazz. With her powerful sultry voice, relaxed presence, honest enthusiasm and a great sense of humor, she makes us love jazz even more than we though we could. Normally one shouldn't just reach for the box of superlatives, not only do they inflate before you know it, they can also add considerable pressure to the artist in the form of expectations. But in this case there is no need to refrain from stating that Soojin sings jazz with her whole body and mind - as if she does not want to do anything else. With her solid, gentle and atmospheric voice – she remains a star. There are singers who sing jazz, and then there are jazz singers. Soojin is for sure a jazz singer.
Discography
• Hi-Lo 2011
Calibrated Music CALI115
• Swing Low 2015
Highlow Records HIGHLOW01
• Put the blame on me 2015
Highlow Records HIGHLOW02
• Pergitte 2016
Highlow Records HIGHLOW03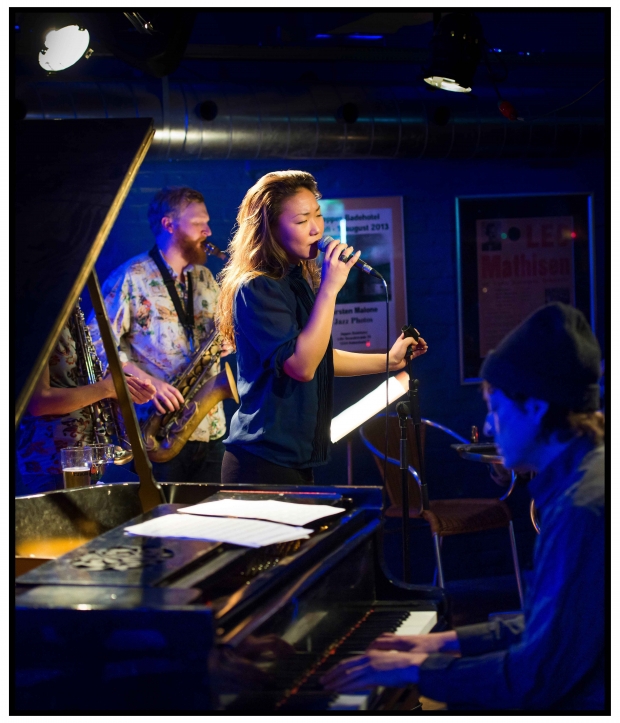 Photo: Torben Christiansen Birgitte Soojin/Christina von Bülow/Ned Ferm/Ben Besiakov